Big Yellow Self Storage – Security Statement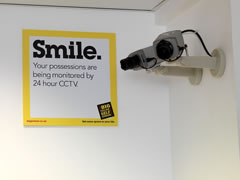 With over 15 years of experience in the self storage industry and as the leading UK self storage brand, Big Yellow ensures that our customers and our 65 stores are protected with a series of security precautions and procedures. The security of our stores and our customers' possessions are our upmost priority.
Big Yellow has worked closely with our security partners, the Self Storage Association (SSA) UK, and with the Police, Fire Brigade and other statutory authorities, to ensure all our stores comply with (and often exceed) any regulations and that our systems are up to date and fit for purpose. Big Yellow has continuously made significant investments in our stores and their security systems to ensure we have the best security service for our customers. Big Yellow and the SSA UK both take issues of safety and security very seriously.
We provide the highest levels of security in the self storage industry in the UK – in particular for customers that are using our stores after our trading hours (ie using extended access). Every room in every store is individually alarmed – and is monitored 24 hours a day, giving our customers total peace of mind.
Summary of Big Yellow's Security Standards: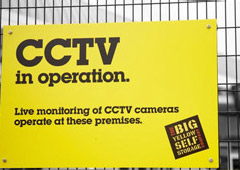 Each of our stores has secure perimeter fencing and access gates that can only be controlled by customer & staff PIN codes. Customers will need to pass through three gates to gain access to the inside of any of our stores during extended access hours. CCTV cameras monitor all access points and emergency exits 24 hours a day, and monitor all the areas around the outside of all of our stores.
Access to the storage areas can only be granted to each customer by them using their own PIN code on the three gates and every storage room is individually alarmed. This means, if someone gains access to a storage room without entering their authorised PIN code, the audible alarm will be instantly activated and a signal sent to our reception and to our monitoring station.
Our staff are on site seven days a week and are trained to monitor and react to any irregular or suspicious activity in or around the store. Out of hours, every store is closely monitored through CCTV by our external security company. They in turn have access to our mobile security company and to our staff to react to any alarm activations. Ultimately they can call the Police or Fire Brigade as well.
All new customers are photographed and need to provide relevant identification before they can start storing with us. No cash payment is accepted at the point of move in, to provide a traceable source of payment for new customers.
Every storage room has its own lock and we do not allow customers to provide their own locks which are not up to the robust security standards required by Big Yellow.
Big Yellow does not offer unrestricted 24 hour access to its stores. Access is limited to our reception trading hours 7 days a week for the majority of our customers. For a limited number of customers, extended opening hours (usually from 5am until 11pm) is permitted at our stores. These customers are schooled in our security systems and have easy access to our monitoring centre whenever they are in their store - and the monitoring centre can communicate with any customers (or intruders) inside or outside the store via a loudspeaker system.
Outside of these times, all Big Yellow stores cannot be accessed by anyone.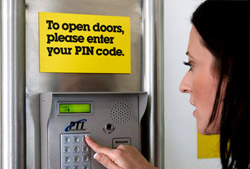 Our security services can be summarised as the following:
Security by Big Yellow Design
Perimeter fencing
3 gates to access store
PIN controlled entry system on each gate
CCTV monitored in store and by external security company
Every room individually alarmed for entry / exit
Monitoring of room access timing and history via control system
No gap above walls on all floors – mesh to provide security on upper floors
Customer lock on every occupied room
Big Yellow lock on every vacant room
Purpose built store to maximise customer service and security
Security by Big Yellow Service
Staff on site 7 days a week
Staff trained to maintain and monitor all security services
Intruder alarm system on all doors & reception area
Fire & smoke alarm system throughout store
All stores monitored by Security Centre after trading hours
Mobile Security is on call by Security Centre
Random sniffer dog patrols at our stores
Security by Big Yellow Standard
Staff walk-around before reception opens
Daily store patrols by staff
Staff walk-around before reception closes
Licence terms & conditions
Requirement for customer ID and proof of address
Customer photograph
No cash taken at move in
Posters & store POS prioritising security
Staff training for customers who use Extended Access
Guide to Self Storage