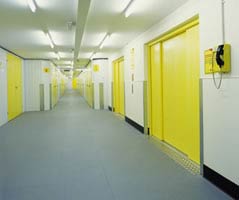 Home, uncluttered home.
Things getting under your feet but you can't bear to throw them away? Time to reclaim your home now the children have left? Looking for a short or long term storage solution? De-clutter with Big Yellow for a tidier, better organized home (and one that will be more attractive to potential buyers). Or if you're not thinking of going anywhere for a while, we can help you to enjoy your space more. Unlike other forms of storage, Big Yellow offers:
No waiting.
Sign today and you can use your space immediately.
No long term commitment.
You can store by the week, month, year or for as long as you require a storage solution. And we only ask for seven days notice when you want to leave your self storage. Just what you need if you have no idea when a property sale or purchase is going to go through.
No paying for storage you don't need.
We have self storage spaces from 10 sq ft to 500 sq ft or more, and we give you the flexibility to move with out penalty. You'll only pay for the space you need. So, whether you're safely storing a few items that you can't bear to throw away, or you're having a bigger clearout, you can come to Big Yellow.
No days without access.
You can get to your things seven days a week at Big Yellow self storage including the generous opening hours of 8am to 6pm Monday to Friday (with extended access for a small administration fee – just check with your store).
No struggling with heavy items.
Our drive-up rooms allow you to park right next to your door – saving on trips back and forth to your car or van. Our corridors are wide, and there's a large loading bay. And we provide pallet trucks and large trolleys to move your stuff – you can even hire a fork lift.
No boxes? No van?
We offer an extensive range of packing materials including boxes, tape and bubble wrap that we can send out to your home. We can also help you to arrange van hire online or when you call your nearest store.
We also provide great value insurance on our storage solutions.
For total peace of mind, all our customers must insure their goods through Big Yellow's Open Cover Policy. Our policy is specifically designed for self storage, so you can be sure your possessions are fully protected. You'll simply pay a price for cover based on the replacement value of what you're storing with us.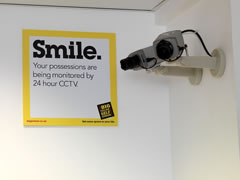 Watch how self storage works
You need JavaScript enabled to view this video.
Get some space in your life, in three easy steps.
Watch on YouTube
Want to see more?
Click here to load our virtual tours
You need JavaScript enabled to view this video.
Please note that you can't store any of the following
Toxic, polluted or contaminated goods
Firearms, munitions or explosives
Radioactive materials
Flammable or hazardous goods
Living plants or animals
Food or perishable goods**
Cash and securities
Illegal goods
Waste
**Unless approved by us in advance